The Pleasure Garden Anthology
Perfumed Pleasures
Coming April 1, 2011 from Harlequin Spice
Many lifetimes ago, the beautiful May Queen found exquisite seduction not with her husband, but in the arms of the Green Man - the passionate ruler of all that is warm and light. And thus began the earth's most torrid love triangle.
Now three women of diverse eras are drawn to the mystical site of the Celtic queen's tragic demise. Their fiery obsession ignited by Beltane Magic is barely perceived, but erotically felt. With each kiss, their passion would break an ancient curse - and reunite a love most profound...
Driven by an unseen force, the goddess maiden seduces the one man forsaken by law and principle - an Irishman soon for the priesthood...
The future countess of Fairfax House yearns for the illicit nights and perfect love in the arms of her betrothed's cousin...
She inherits a decrepit house and garden that awakens in her a raw sexual awareness, the likes of which she can abide alone no longer...
The Wedding of the Century & Other Stories
Coming May 2011 from HQN Books
Seduced by Starlight by Charlotte Featherstone
Jase Markham, London's most dashing—and notorious—rake, has loved his brother's fiancée for as long as he can remember.
When his brother casts Blossom aside, Jase's determined to finally make her his—if she's willing to overlook his scandalous reputation!
Click
HERE
to Pre-Order!
My novella in this anthology, Seduced By Starlight involves the characters from both Addicted and Sinful! So, you'll see Lindsay and Anais, and Wallingford and Jane, one last time! The hero of Seduced by Starlight is Jase Markham, Lindsay and Anais' son, and the heroine is Blossom, Wallingford and Jane's daughter. iI hope fans of Addicted and Sinful are going to love the steamy love story of Jase and Blossom!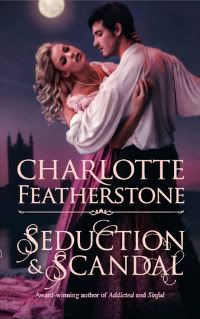 Seduction & Scandal, Book 1 of The Brethren Guardians
Coming June 2011 from HQN Books
His love could save her…
In more ways than one.
With the scandalous nature of her birth to live down, Isabella Fairmont dreams of a proper marriage – even if a passionless one. She saves her deepest desires for the novel she dares to pen, wherein a handsome lord with dark powers seduces her. But then her courtship with an appropriate suitor is threatened by the sudden attention of the Earl of Black …whose pale blue eyes and brooding sensuality are exactly as she described in her book.
Isabella tries to resist the mysterious Earl of Black. Yet as he pursues her with inexplicable knowledge of her past and kisses that consume her, Isabella fears she will succumb.
If only the earl could tell Isabella the truth. With very real and treacherous thieves endangering her life, Black will need to protect Isabella from the very people she trusts the most…
Pride and Passion, Book 2 of The Brethren Guardians will release in December 2011
They each have their secrets. But what they share is Passion


Lucy Ashton had long ago given up her quest for true love. In the rarified society of Victorian England, Lucy plays the game--flirting, dancing and dabbling in the newly fashionable spiritualism. Even marrying when--and who--she's supposed to. If the stuffy Duke of Sussex cannot spark the passion she craves, he can at least give her a family, a home of her own,and a place to belong. But when her polite marriage reveals a caring and sensual man, Lucy begins to wonder if she can indeed have it all.

But Lord Sussex is not the man the London ton has come to admire. And Lucy has some ghosts of her own, as well. Thus, when a blackmail scheme turns to threats of danger, the newfound peace of the Sussex marriage is cast upon the rocks. Passion has a price, Lucy learns. And not all ghosts stay buried.

Releases end of November, 2011
Click
HERE
to read and excerpt!
Coming soon, pre-order links

Temptation and Twilight, Book 3 of The Brethren Guardians will release in July, 2012

Vanity, Book of The Sins and Virtues will release April, 2012